Estate Planning in the SF Bay Area
Why do you need an Estate Plan?
At the Talbot Law Group, our job is to ensure your peace of mind and facilitate your wishes. Our team's experience, patience, and dedication to clients make us attorneys you can rely upon for sound advice and conscientious guidance. Together, we will work out what is most important to you, and come up with a plan that makes you feel comfortable and secure.
Top 4 Reasons to do an Estate Plan in California
1. Your Peace of Mind.
A personal and properly drafted estate plan is essential for families of all income levels. Our lead attorney Matthew Talbot has dedicated his career to protecting his clients' assets and families. An estate plan allows you to direct how your assets are distributed and helps ensure your family is protected. If you have minor children, your Will specifies your preferred Guardians and your Trust plans for children's financial well being.
Your Estate Plan will be drafted by a thoroughly experienced and dedicated team of estate professionals, and carefully tailored to accurately reflect your wishes.
2. Protect Your Assets for Your Family
If you fail to do a Will or Trust in California, your assets and beneficiaries may be at risk. A carefully structured Trust can protect Separate property assets and can be particularly useful for couples who have children from previous marriages. A properly drafted Trust can also minimize money spent on court fees, costs of administration, and attorneys' fees.
3. Avoid Familial Disharmony.
When you place assets inside of a trust, those assets can be distributed in a way that preserves peace within a family, and protects your beneficiaries. Specificity will help avoid future fighting between beneficiaries. Trusts can also be drafted to to create sub trusts for the management of funds for your children, including special needs beneficiaries. Because our attorneys have significant experience with Trust and Estate litigation, we are uniquely positioned to draft Wills, Trusts, Powers of Attorney, and Health Care Directives that are set up to protect your estate against litigation.
4. Avoid Probate.
If you have assets that total more than $150,000, it is crucial to create an estate plan with a knowledgeable and experienced trust attorney. If someone passes away and they do not have an estate plan, the state of California creates one for them, through a process called Probate. Probate is a lengthy process that carries significantly higher costs than a well drafted Trust.
A Family's Guide to Estate Planning
As a top Contra Costa Estate Planning Firm, Talbot Law Group provides the following Estate Planning services: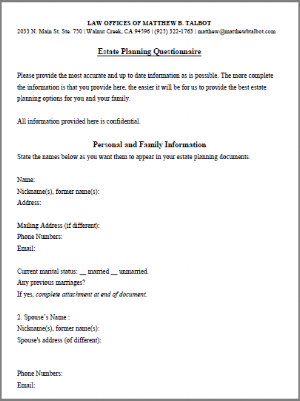 Estate Planning Questionnaire
An experienced Estate Planning Lawyer will craft your Estate Plan specifically for your family and its unique dynamics.
When there is a lack of specificity, your estate is left open to interpretation - and possibly litigation. Whether you choose to go with a will, a trust, or any combination thereof, hiring a good Estate Planning Attorney to help you draft it can put your mind at ease by assuring that all of your bases are covered.
An attorney who has significant experience in Trust & Estate Litigation can further ensure any pitfalls - and potentially expensive planning errors - are avoided. Because of our litigation background, we are uniquely positioned to draft wills, trusts, powers of attorney, and healthcare directives.
We would be happy to answer any questions or issues you may have concerning your estate planning needs. Contact us today at 925-322-1795 to set up a consultation.
Walnut Creek Estate Planning and Probate Firm Talbot Law Group serves Contra Costa County, Alameda County, Concord, Pleasant Hill, Alamo, Danville, San Ramon, Lafayette, Moraga, Orinda, Martinez, Benicia, Pleasanton, and the surrounding areas of the SF East Bay.